Modern, smart
& extensible cloud IDE
CodeTasty is powerful IDE in the cloud with additional features only a cloud application can give you.
40+

languages supported

25k

developers on board

49k

workspaces

300k

files edited daily
Features
Real-time language tools
that make you smarter
Our IDE helps you write readable and clean code the smarter way - in real time.
Powerful editor

The code editor provides silk-smooth experience accompanied with error detection tools, code completion, built-in compilation and a lot more.

Get started

Built-in Terminal

Open terminal in any of the workspace folders with a single click or by pressing keyboard shortcut.

Get started

Personalization

Change the theme, customize settings, resize & split panels or install extensions. We know that everyone is different.

Get started

Collaboration

Changes in the file tree, current collaborators and edits in open files. See all updates in your workspace in real-time.

Get started

Revisions

No piece of code is lost anymore. All the changes you make are archived so you can fetch the past file versions whenever you need them.

Get started
Benefits
What makes us top-notch
No Setup

Login to IDE and start coding. There is no setup at all, you're ready to work on your projects right away.

Speed

Experience desktop-like speed and performance while editing your files in the cloud. And, unlike desktop, see what your collaborators are doing.

Extensions

We understand every developer has different needs. You can install countless extensions to enhance your productivity.
Supported Languages
CodeTasty supports more
than 40 languages
The editor supports all major languages and up to a hundred thousand lines of code in a single file.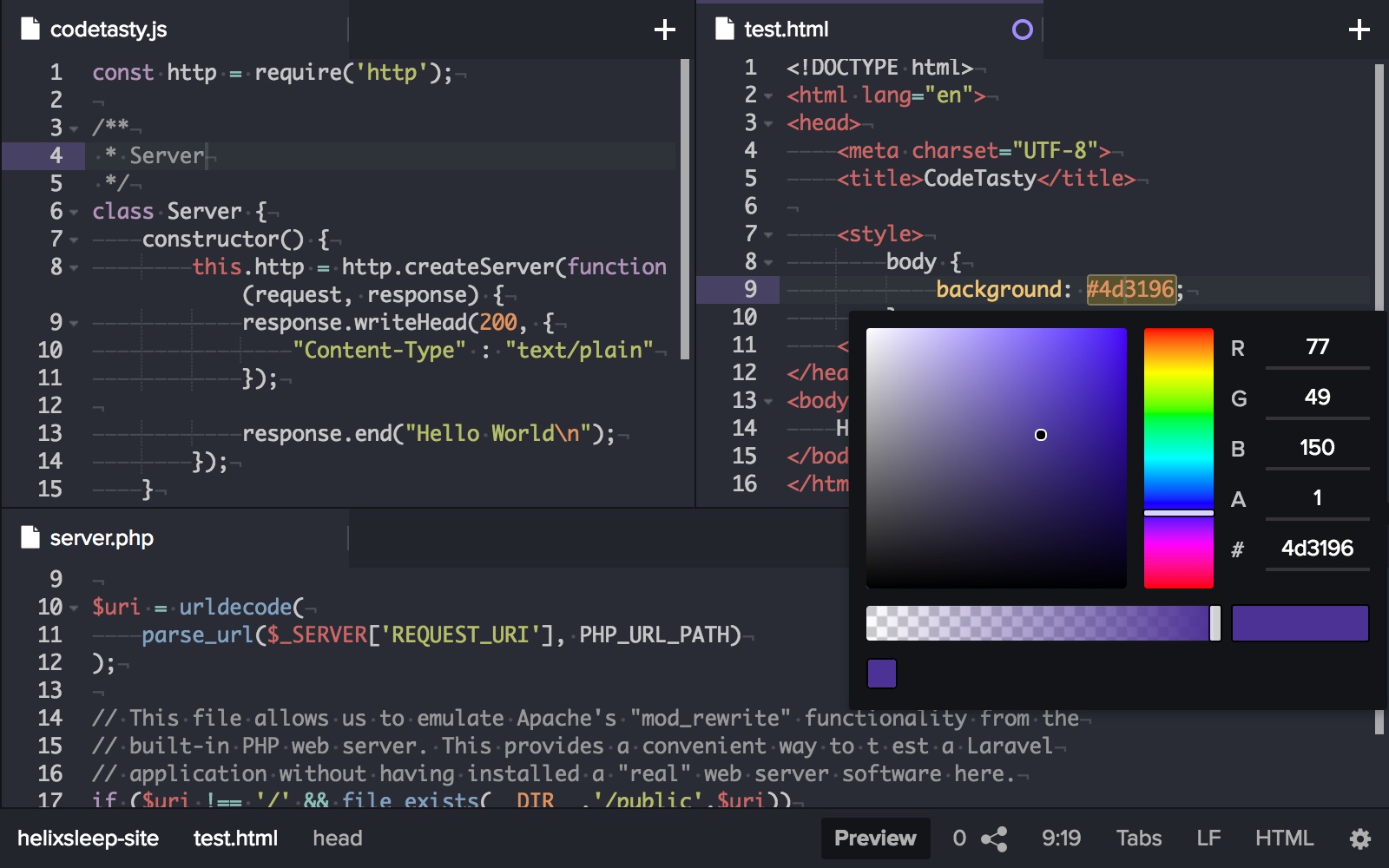 Premium support
We provide premium support incl. code completion, linting, built-in compilation and other useful tools for several major languages.
Other supported languages
Basic support is provided for other languages. We are continuously working to provide wider support to all languages.

Testimonials
Our satisfied users
CodeTasty radically simplifies our daily tasks, which gives us more space to focus on what's important.

Peter Bakos

Adbee

CodeTasty makes my life as a programmer so much easier. With live collaboration it is the ultimate IDE for working in teams.

Matus Bandur

PLATFORM

I use CodeTasty daily for work on my clients' projects, it helps me always deliver great product on time.

Andrej Adamcik

TopTal

Writing backend in NodeJS for my iOS apps became much easier with all the language tools this platform provides.

Andrej Broncek

Freelance Developer
Comparision
Why switch to CodeTasty
Features

CodeTasty IDE

Extensions

Revisions

Collaboration

No Setup

Terminal

Desktop speed
Try IDE Contact us if you want to know more.
Join over 25k developers
already using CodeTasty